-----------

TYR 4
Autre Que will soon have some copies of Tyr 4 for sale.
To pre-order your copy, please get in touch with autre_que_records[@]yahoo.fr
Price: 25 EUR + shipping

Tyr 2 and Tyr 3 can also be purchased on request (for the same price).

Shipping to EU countries + Switzerland:
* economical mail (about 20 days delivery): 3 EUR
* priority mail: 10.50 EUR
* registered mail: 15 EUR

Shipping to France: 7.50 EUR (colissimo)

Shipping to the rest of the world:
* economical mail (about 20 days delivery): 4.50 EUR
* priority mail: 12 EUR
* registered mail: 17 EUR

Volume 4, 2014, ISSN 1538-9413, ISBN-13: 978-0-9720292-4-7, 6" x 9" perfectbound, illustrated, 430 pages.

IN THE FOURTH VOLUME:
Alain de Benoist on "What is Religion?", Collin Cleary on "What is Odinism?", Nigel Pennick on "Traditional Time-Telling in Old England", Claude Lecouteux on "Garden Dwarves" and "Geiler von Kaiserberg and the Furious Army", Steve Harris on "Barbarian Suffering", Stephen Pollington on "Germanic Art in the First Millennium", Michael Moynihan on "Rockwell Kent's Northern Compass", and Christian Rätsch on "The Mead of Inspiration"; interviews with pioneering psychedelic explorer Ralph Metzner, Sequentia's Benjamin Bagby, and Cult of Youth's Sean Ragon; and much more.
www.radicaltraditionalist.com/tyr4

-----------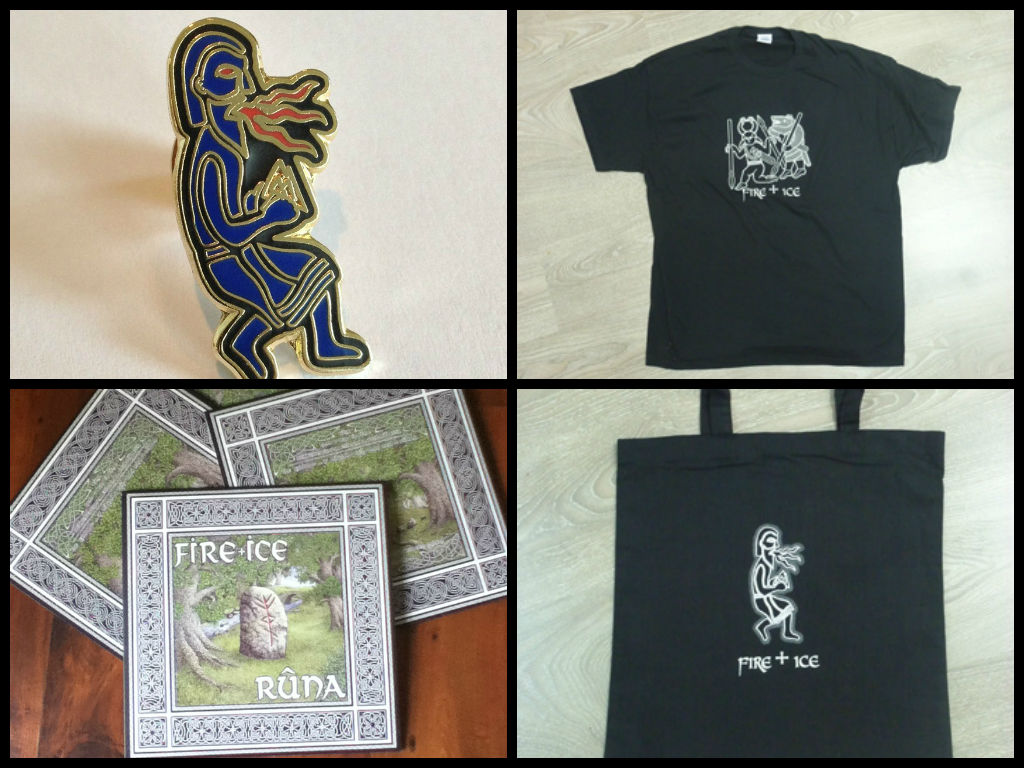 Visuals of the remaining merchandising from the Fire + Ice Fractured Europe Tour.
Only a few items left ; available on a first come, first served basis.

Fire + Ice t-shirt (S, M, L, XL): 15€ + shipping
Fire + Ice Tote bag: 8€ + shipping
Sorcerer Pin: 7€ + shipping
Rûna LP: 20€ + shipping

-----------

The Fractured Europe Tour was a great success on many different levels and I would like to express my thanks to Nathalie at Autre Que for her sterling efforts that made it all possible. Her professional handling of everything had to be experienced to be believed.

Annabel Lee , Robert Ferbrache and Michael Moynihan pulled out all the stops on every performance and I thank them from the bottom of my heart for their genius and friendship.

Thanks and appreciation also go out to everyone who helped to make this happen. The promoters, the staff at the venues and all the great people we met along the way. You are too many to name individually but I know who you are and will never forget your input to what turned out to be a great series of events. Even the petit tyrants, the internet warriors, who poured a trickle of water onto the flame we were burning: you helped to make us stronger.

Ian Read / Fire+Ice
13/07/2014

-----------




Fire + Ice 'The Fractured Europe Tour'
Fire + Ice will perform with a rare and unique line-up featuring Ian Read, Michael Moynihan, Annabel Lee and Robert Ferbrache.
Knotwork (Michael Moynihan, Annabel Lee & Robert Ferbrache) will play as support band.

-----------




Fractured Europe Tour

I am very excited about the forthcoming Fractured Europe Tour. It is a great privilege to be able to work with such important musical friends as Michael Moynihan, Annabel Lee and Bob Ferbrache, who give the band a whole new feel and direction. That they are performing music from their folk project, Knotwork, adds another dimension to what promises to be a series of great shows.

Our performance at the Stella Natura festival last year in America, under difficult circumstances (not least the freezing cold temperature,) showed just how well we can and will play together.
The difficulty of such a venture means it is very unlikely to ever be repeated, and I urge all who like our music to come to any of our performances. You will not be disappointed.

Ian Read
Fire + Ice

-----------




-----------




Some remaining items of the Changes 'Ride the Tiger World Tour' are available on a first come, first served basis. People interested in Europe should get in touch with Autre Que (autre_que_records[@]yahoo.fr) and those in America with Changes (twilightlands[@]yahoo.com).

* 'Ride The Tiger' 7" picture-disc [AQ05] limited to 240 copies: 11€ + shipping
* Changes patch: 5€ + shipping
* Ride the Tiger button (38mm): 2€ + shipping
* Ride the Tiger t-shirt (S, M, L, XL): 15€ + shipping

-----------



CHANGES "Ride the Tiger" 7" picture-disc
AQ05
Released especially for the CHANGES' Ride the Tiger World Tour and available from the Wien gig, this picture-disc features two songs, one being previously unreleased.
Side A. Mahabharata of the Soul
Side B. When the Sun Kings Reign Again (previously unreleased)
Release date: 4th September 2013
240 copies
Price: 11€ (+ shipping)
-----------
-----------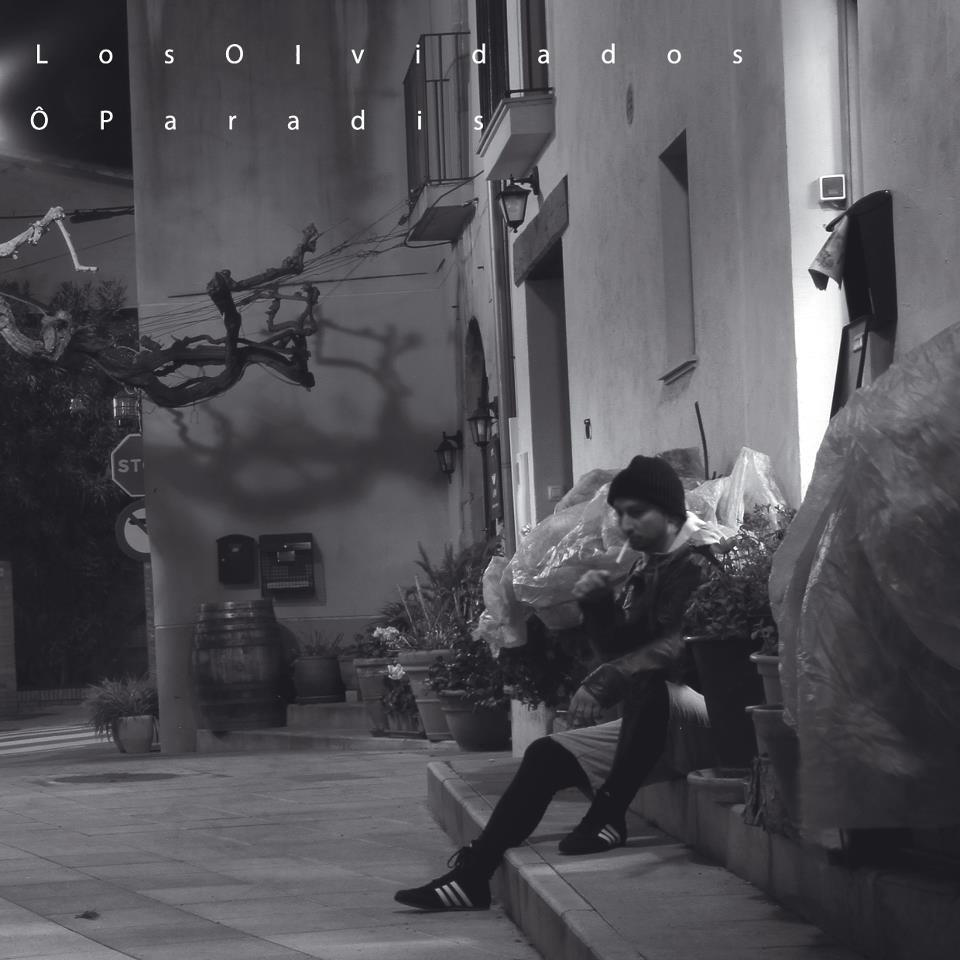 Ô PARADIS "Los Olvidados" LP
AQ06
The album will only be available on vinyl.
Sorry I ruled the universe as a God so tired. Sorry I was a monster.
Once we understand that all battles are fought within oneself, we win the esteem of the heroes.
Real things are few and little known by most but these and what is disguised are both only raindrops crying from the same storm. We can only live forever in an instant. A solitary moment in which we conquer our own hearts and stop being afraid. Everything will be forgotten except this rousing moment, recorded on the retina of death.
Here you will find some songs bathed in this and other thoughts.
Release date: 24th June 2013
200 copies on heavy black vinyl
Pre-order price: 17.50€ (+ shipping)
Regular price (after release date): 20€ (+ shipping)
-----------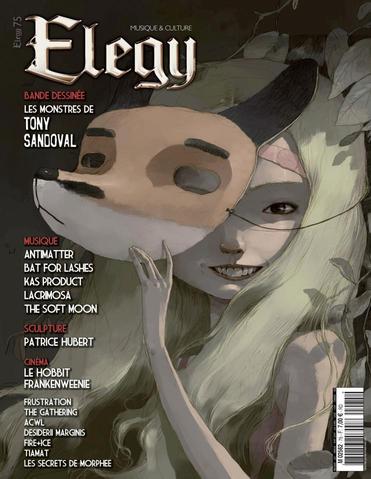 Ian Read was interviewed in Paris by Thomas Mafrouche for Elegy magazine. Click on the cover to read the English version of the discussion.
-----------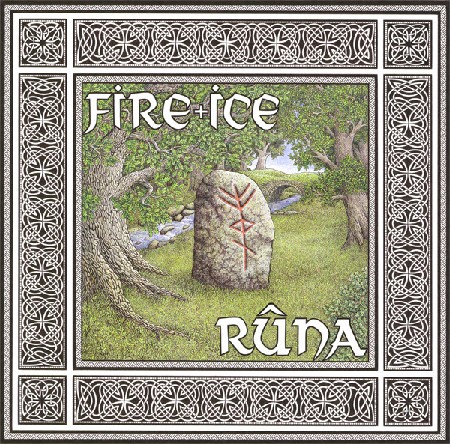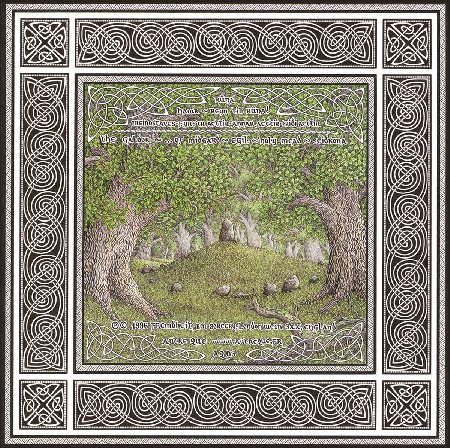 FIRE+ICE "Rûna" LP
AQ03
Due to an imperfect reproduction of the canvasses colour by the pressing plant, I'm sorry to announce that the release date of "Rûna" LP is delayed until the 3rd October 2012.
The special pre-order price (15€ + shipping) will be maintained until the new release date.
I don't ask for pre-payment before this date but I take pre-orders, of course.
Remember that buying the record directly from the label will enable the artist to get more money and Autre Que to carry on its activities.
"Rûna", Ian Read's Master-Work of Lore for the Rune-Gild will be reissued for the first time on vinyl, by the French label Autre Que.
For this major and unique album in Fire+Ice's discography, a bespoke piece of art has been specially painted by the talented Czech artist Jan Fibiger.
Release date: 3rd October 2012
300 copies on heavy black vinyl
Pre-order price: 15€ (+ shipping)
Regular price (after release date): 20€ (+ shipping)
-----------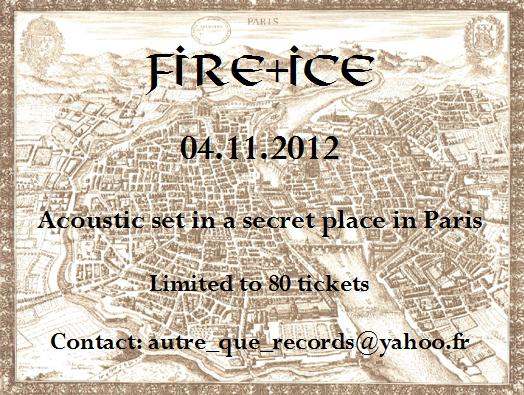 Fire + Ice - Paris 4 Novembre 2012
Fire + Ice joueront un concert entièrement acoustique à Paris, le dimanche 4 Novembre 2012 dans un lieu tenu secret.
Seulement 80 billets nominatifs seront disponibles pour cet évènement.
Prix du billet : 15 euros
Les réservations ne peuvent se faire qu'auprès d'Autre Que.
Aucun billet ne sera vendu le soir même.
---
Fire + Ice will play an acoustic concert on Sunday 4th November 2012 in a secret place in Paris.
Only 80 nominative tickets will be available for this event.
Ticket price: 15 euros
Reservations will only be available via Autre Que.
No tickets will be sold at the door.
-----------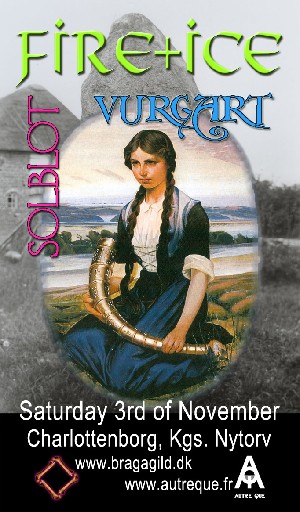 Fire + Ice, Solblot, Vurgart
Saturday 3rd November 2012 in Copenhagen
Place: Festsalen, Det Kongelige Danske Kunstakademi.
Address: Charlottenborg, Kongens Nytorv 1, Copenhagen.
Entrance from Kongens Nytorv
Map
Admission fee: 160dkk.
Preorder tickets
More info: bragagild.dk